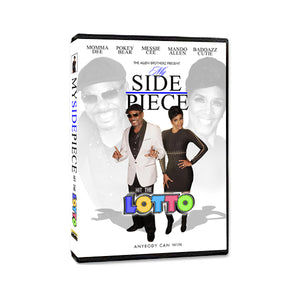 My Side Piece Hit The Lotto Movie and Soundtrack
Sale price Price $ 14.98 Regular price Unit price / per
Tax included.
My Side Piece Hit The Lotto Movie / Dvd
Lotto winner Mrs. Weatherspoon (Momma Dee) shares her winnings with her 
unfaithful husband, Charles (Pokey Bear) While next door neighbors Deshawn (Messie Cee) and Ebony (Baddazz Cutie) scramble to repay borrowed bail money back to the neighborhood bully, Buster as Dillard (Mando Allen) and Charles enters into a shady business deal.
My Side Piece is a drama driven love rectangle:
exposing lust, greed and betrayal. Directed and produced by Dewey Allen.
My Side Piece Hit The Lotto Soundtrack / Cd
1. Pokey Bear - They Call Me Pokey
2. Stephanie McDee Feat. Pokey Bear - Do The Hokey Pokey 
3. Jackie Neal - Down In The Club Go Dj  
4. Big Yayo Feat. Gentry Jones & Omar Cunningham - Bedroom Rodeo
5. Pokey Bear Feat. Geno - I'm In Love  
6. Sharnette Hyter Feat. Harvey Scales & Dave Ramsey - Ms Thick-A-Licious  
7. Katrenia Jefferson - That Thang  
8. Pokey Bear - Older Woman  
9. Pokey Bear - Let Me Be Your Pokey Bear  
10. Pokey Bear Feat. Coldrank - One Night Stand
11. Pokey Bear - I Still Do Her Wrong  
12. Katrenia Jefferson - Living A Lie 
13. Stephanie McDee - Busted Live 
14. Shunte' Nicole Feat. Big Yayo - Lonely
15. Big Yayo - I Need A Freak  
16. Pokey Bear Feat. Bruce Dillon - Float On 
17. Tyree Neal Feat. Sir Charles Jones - All Grown Up